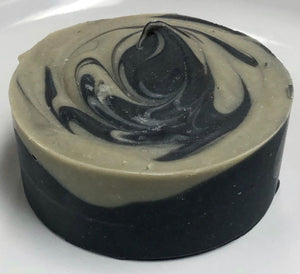 Bar Soap - Charcoal & Tea Tree Oil Facial Bar
Say goodbye to gunky pores and say hello to a super fresh clean face! This bar is a powerhouse of detoxifying super agents! Let me introduce you to a few:
Activated charcoal: Charcoal is known for its ability to absorb and draw oil from the skin.
Sea Clay: Known for its beneficial qualities such as, absorbing excess oils, dirt, and impurities from the skin, and purifying and cleansing. Gently exfoliates and soothes. Also known to tighten and tone skin.
Tea Tree and Lavender Essential oils: Tea tree oil is well-known for its powerful antiseptic properties. It's been documented in many studies to kill many strains of bacteria, viruses, and fungi. Lavender has been referred to as nature's antioxidant super hero!
Ingredients:   Olive oil, Coconut oil, Avocado oil, Cocoa butter, Castor oil, Sodium Hydroxide, Water, Kaolin clay, Activated charcoal, Dead Sea Clay, Lavender essential oil, Tea Tree oil
Weight may vary slightly.
---
We Also Recommend