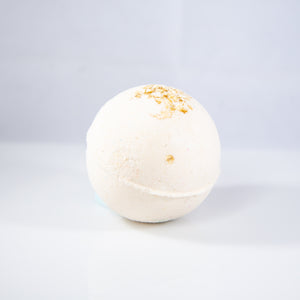 Bath Bomb - Oatmeal, Goat Milk, & Honey
This oatmeal, milk, and honey scented bomb is full of amazingness!
If your skin needs a little TLC, this bomb's for you! Key ingredients identified:
Colloidal oatmeal - Thought to provide moisturizing properties by creating a barrier against the skin. The hydrated granules of oatmeal adhere to the surface of the skin and provide a protective film attracting humidity and reducing friction.
Honey - Honey's natural antioxidant and anti-microbial properties help to protect the skin from the damage of the sun's rays, supports the skin's ability to rejuvenate and refresh depleted skin, leaving it feeling silky soft and supple.  
Goats Milk - High in protein and triglyceride content making it an excellent natural moisturizer. It contains vitamin A, B6, B12 and E as well as beta-casein which all help with to hydrate and nourish dry skin. Goat's milk is a natural emollient.
Ingredients: Sodium bicarbonate, Citric acid, Epsom salt, Milk Powder, Colloidal oatmeal, Honey, Cornstarch, MCT oil, Avocado oil, Isopropyl Alcohol, Polysorbate 80, Fragrance
---
We Also Recommend